Come and join us this September for the 9th Annual 'Centris Cup' brought to you in partnership with Centris Federal Credit Union
Offering various levels of play for U8-U14 girls and boys teams.
Held at the Gretna Sports Complex, Leo Royal & Capehart fields here in the Great Life!
Tournament Dates:  September 10-13, 2020
(only local teams to play on Thursday night if needed)
Gretna Sports Complex 10550 S 222nd St Gretna, Nebraska 68028
As of 1:00pm, Friday, Sept 11, Games are still on.
If anything changes, we will let you know.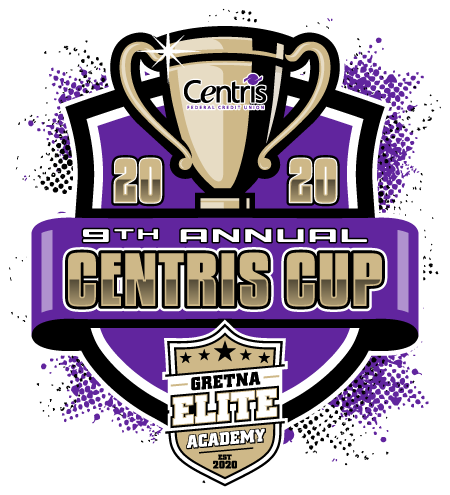 Teams will check-in to the tournament online via email prior to the tournament.  A PDF file including a certified roster, medical release forms for each player, City of Gretna waiver for each player and coach, travel permit papers (for out of state teams only) and guest player forms shall be emailed to checkin@gretnaeliteacademy.com by Friday, September 4 at noon central time.
We will email you back a stamped roster that will be your official roster for the tournament.  Each team will be required to bring a copy of that roster to each game for use by the referees.  If the roster that is provided to the referees is not stamped with the tournament stamp, the game may be forefeited.  Along with the stamped roster, each team will need to provide player passes for those on the roster as required by the referees.
Medical Release and Guest Player Forms
City of Gretna Waiver
Travel Permit Papers (out of state teams only)
Taken from the Nebraska State Soccer Fall 2020 COVID Procedures.  Full document at link below.
Coaches:
Coaches and bench personnel are encouraged to wear PPE including masks throughout the game especially while in technical area.
Confirm with players as they arrive that they have no symptoms, no temp, etc.
Bench personnel (coaches or other team admins) should be limited whenever possible, if multiple bench personnel are present, they should keep social distance of 6ft during participation (before, during and after the game).
Have cleaning products (wipes for equipment, hand sanitizer, etc.) for use for your team and to sanitize bench area and equipment.
One coach or a designated team official should handle player passes- Show passes to referees when needed, do not hand them back and forth. Referees will instruct coaches during check-in how to proceed.
In case of sudden bad weather, coaches should direct their team that ALL participants and spectators should go to their cars, NOT the facility/bathrooms, etc.
In case of a player injury, one coach or team admin can enter the field to attend to the player, wearing PPE, to attend to the player and provide first aid as needed. Minimize exposure by keeping distance and preventing direct contact with the player when possible.
No post game huddles/chats should be held on the field or in the technical area, find an area away from others where players can spread out and remain socially distanced.
Spectators:
Per recommendation of the CDC, all teams should limit non-essential spectators and visitors
Spectators are encouraged to wear PPE including masks whenever possible.
Spectators should maintain social distance with other spectators not from their immediate household members before, during and after the game (6 feet or more).
Bleachers and benches should not be used- spectators should bring their own chairs/seating.
Spectators should sit or stand no closer than 6-10 ft to the field sideline. Maintain distance between players and referees throughout the game.
Wait for previous game spectators to completely clear out before approaching the field.
In case of bad weather ALL participants and spectators should go to their cars, NOT the facility/building/bathrooms, etc. to wait for play to resume
Teams/Players:
Teams/Players should not arrive to the field sooner than necessary to properly warm-up. When possible players and teams are encouraged to find open space to warm-up away from the field while the previous game is still in play.
Warmup away from other crowds, players should use their own equipment and use other best practices during warmups (no contact with other players, social distance whenever possible, no huddles, etc).
Pregame meeting/coin toss should be done with one captain per team only and captains should remain 6 ft apart.
Pre-game and halftime talks should be done while wearing PPE and maintaining distance between coaches/players. No close huddles.
When arriving at the field, players should spread their personal belongings along the entire sideline to keep proper social distance from each other. Do not bring unnecessary belongings or equipment and come dressed and ready to play.
While on the bench, or not actively participating, players are encouraged to wear PPE including masks. All players should have their own masks available during games, masks should never be shared.
Players are encouraged to have their own hand sanitizer available to them during activities
Players should not share any personal items including water bottles, pinnies, towels, etc.
Wait for previous games teams to completely leave the technical area before approaching. Ideally the previous game will be done, and teams will have cleared before the next team arrives.
Teams and coaches in technical area should stay distanced- stay away from the line (keeping distance from AR), center flag and other bench personnel and players.
Overall, minimize time spent in high risk exposure areas (subs should not stand right next to opponent subs, coaches not come in contact, no high fives/handshakes/huddles) and high risk behaviors (including spitting, touching/wiping your face, etc).
Sanitize game balls at before the game, at half and immediately after the game.
Teams and spectators should leave the field immediately following the game
No handshakes/high fives pre or post game- Consider clapping or waving post game to show sportsmanship instead of the typical handshake lines.
Any benches used should be sanitized thoroughly before the next game.
Referees:
Bring own equipment whenever possible OR have disinfecting wipes or spray to use on any shared equipment.
Any symptoms- do not work, if you test positive for COVID-19 within 14 days of working a game, notify your assignor immediately.
Referees are encouraged to wear PPE including masks pre-game including check ins and immediately following the game. Referees may elect to wear a mask during the game if the mask does not hinder their breathing in a dangerous manner or their ability to perform referee duties (this is a personal decision).
Referees are encouraged to have hand sanitizer available.
No handshakes, fist bumps, high fives pre or post-game.
Coin toss/captains meeting should be with a maximum or 1 player from each team and maintain social distance.
Keep distance whenever possible- minimize time spent in high risk exposure situations. Be aware of distance during throw-ins, corner kicks, substitutions, etc.
Leave immediately following the last scheduled game. If possible, do all game reports at home or in the car (do not stay near the field of play).
Tournament Headquarters Map
Stay & Play Hotel Information
Gretna Elite Academy has established the following procedure regarding tournament hotel reservations.
A condition of acceptance requires every "out of town" team to utilize one of the sanctioned hotels and book the rooms through Global Connections Inc. (GCI) using their online request system at www.GCITeamTravel.com. Global Connections has worked closely with the local hotels and has secured the best rates possible for this event. Various options will also be available to satisfy team needs and all budgetary considerations.
A team failing to utilize Global Connections will not be permitted to participate in the tournament.
ALL teams traveling to participate in the tournament can designate a team representative to make the entire team's request online at www.GCITeamTravel.com. GCI has secured tournament room blocks at reduced rates from a wide range of hotels to suit the needs of all participating teams. A list of the hotels can be found online for this specific tournament.
U8 (5v5)  - $250
U9/U10 (7v7) - $425 
U11/U12 (9v9) - $500
U13/U14 (11v11) - $575