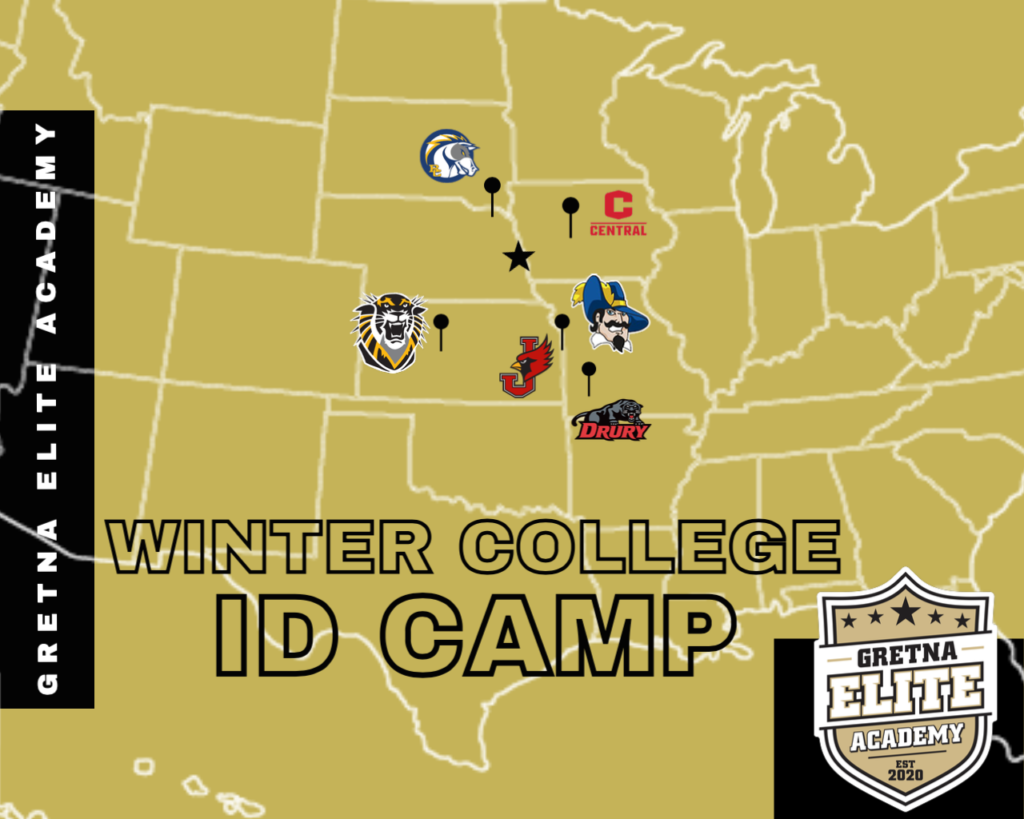 Our 3rd annual 'Boys Winter College ID Camp' but first as Gretna Elite Academy is coming February 6th, 2021!
We are thankful for our event sponsors, Montessori Educational Centers & Gretna Performance Center, for supporting the event.
* ID Camp open to any freshman - senior player per NCAA rules *
* Due to NCCA rules there will be no D1 programs in attendance as they have a dead period in place until April, 2021 *
Each Camp session will be recorded and uploaded to our Hudl coaches account for College's to view at their own convenience and we will have training sessions ran by Colleges from D2/3/NAIA/JUCO levels and Colleges from those levels will also be able to be in attendance as well as having access to the Camp film.
Camp Information:
Saturday February 6th, 2021
Gretna Sports Complex (10550 S 222nd St, Gretna, NE 68028)
9AM-4PM
9AM-11:00AM - 2 x 1 hour sessions with College Coaches
11:10AM-1:10PM - 2 x 1 hour sessions with College Coaches
1:30PM-3:45PM - Small Sides Games - 8 v 8
2 x Goalkeeper sessions during the Camp too!
Cost - $90 (includes an ID Camp Dri Fit shirt)
Freshman - Seniors
In February 2020 we had over 30 College programs join us for a day of recruiting at the Gretna Sports Complex.
PLAYERS REGISTER HERE:
The Camp is FULL. To be placed on the waiting list for a spot send an email to chris.dunford@gretnaeliteacademy.com
CAMP GROUPS
https://docs.google.com/spreadsheets/d/11na-ZLtDV_UaofwB9mMCqEU-UpEJf1LDAaq9xQNplTU/edit#gid=0
2021 Attending Schools List:
Drury University (MO) NCAA D2
William Jewell College (MO) NCAA D2
Fort Hays State University (KS) NCAA D2
Central College (IA) NCAA D3
Cornell College (IA) NCAA D3
Concordia University (NE) NAIA
Wartburg College (IA) NCAA D3
Iowa Western Community College (IA) NJCAA
Midland University (NE) NAIA
Dordt University (IA) NAIA
Johnson County Community College (KS) NJCAA
Southeast Community College - Beatrice (NE) NJCAA
Buena Vista University (IA) NCAA D3
Hastings College (NE) NAIA
Bellevue University (NE) NAIA
Doane University (NE) NAIA
Nebraska Wesleyan University (NE) NCAA D3
Iowa Central Community College (IA) NJCAA
William Penn University (IA) NAIA
Bethel College (KS) NAIA
Dakota Wesleyan University (SD) NAIA
Briar Cliff University (IA) (NAIA)
University of Wisconsin - Platteville (WI) NCAA D3
RECRUITING OFF SITE VIA ONLINE FOOTAGE
Rockhurst University (KS) NCAA D2
Macalester College (MN) NCAA D3
Gustavus Adolphus College (MN) NCAA D3
University of Dubuque (IA) NCAA D3
University of Minnesota St Marys (MN) NCAA D3
Benedictine College (KS) (NAIA)