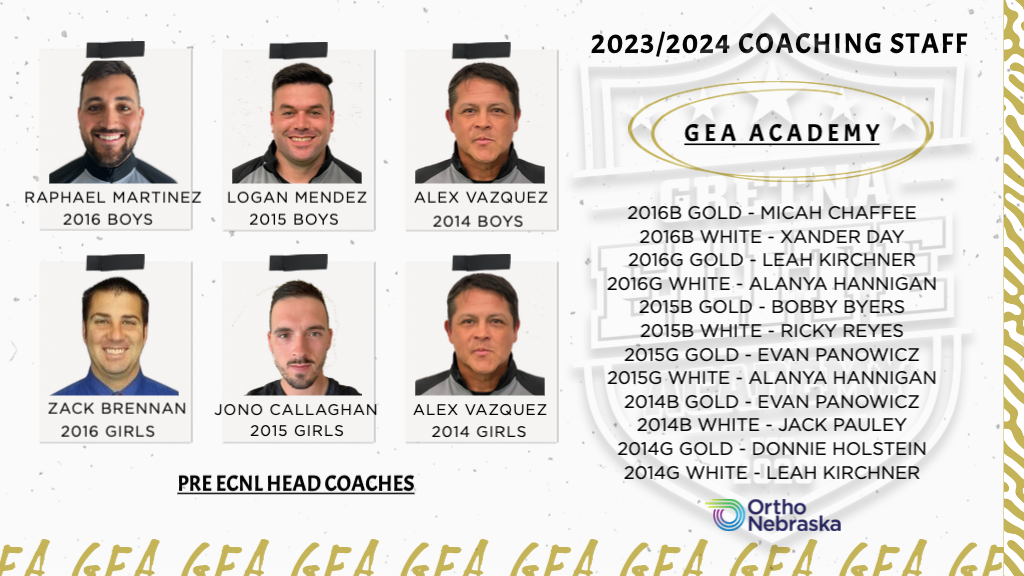 This is the next stage of the GEA Development Pathway and is led by professional coaches under the guidance of our Academy Director. It builds on the foundations laid in the Junior Academy environment with more of a team structure introduced. Game play is 5 v 5 or 7 v 7 (U8) and 7 v 7 or 9 v 9 (U9-U10) and teams are formed through no cut Academy Clinics. Players are placed on teams, with a professional, licensed coach and register for the entire year (August 2022-May 2023) after Academy Clinics which are held the first week of June.
Expectations of Academy teams:
2 practices a week in Fall and Spring seasons
1 practice a week in Winter inside the Gretna Sports Complex until outdoor fields are open
PRE ECNL team players will be provided additional training sessions throughout the winter season until outdoor fields open
Participation in Nebraska Youth Soccer League in Fall & Spring seasons
Participation in two local tournaments in the Fall and Spring seasons (not included in registration fee)
Participation in Futsal during the Winter season (not included in registration fee)
GEA Academy soccer is the beginning of the "me and my partner" stage of the development pathway. There is still a high 1 v 1 technical skill focus but we begin to introduce and work on using team mates to combine.
With our PRE-ECNL teams we will build on the above as well as introducing our five pillars of the PRE-ECNL program as the foundation for our player pathway:
ELITE TRAINING ENVIRONMENT

TECHNICAL SUPERIORITY

SPATIAL AWARENESS

TRUST

WILL TO WIN
The focus is on individual player development and not on wins/losses. Our goal is to have every player feel comfortable with the ball at their feet. We encourage creativity by creating an environment where players feel safe to make mistakes.
COST
U8/2016 $700 (plus team fees)
U9/2015 $825 (plus team fees)
U10/2014 $825 (plus team fees)
U8-U10 PRE-ECNL $1,150 (plus team fees)
* TEAM FEES CAN INCLUDE TOURNAMENT FEES, ANY ADDITIONAL TRAINING & WINTER FUTSAL LEAGUE (u8-u10 teams gets one indoor session included throughout the winter period November 1 - March 1)
If you are interested in our Academy teams please email our Academy Director Raphael Martinez at martinez@gretnaeliteacademy.com