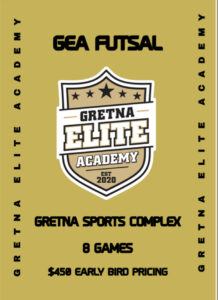 Come play on our new Turf by AstroTurfUsa!
GEA Futsal is a fast paced, high energy, fully turfed, fun environment.
• This is a 5v5 league open to both girls' and boys' teams from 7U to Adult, max roster is 10 players, minimum of 5 players.
• 8 games *guaranteed ending the session with a Champion's weekend (all teams play one game).
• Games are played on Thursday nights (adult league only), Friday evenings, Saturdays and Sunday afternoon.
• All games are played at the Gretna Soccer Complex located at 10550 S. 222nd Street, Gretna, NE 68028.
• Session #1 is played from October 30th thru December 20th – see calendar at the end of this flyer.
* Early bird price is $450 by October 11th, or $500 thereafter *
- We are using Team Snap Tournaments (TST) platform again for event registration, scheduling, communications and referees:
Download the app to get schedule information, alerts and real-time scores with TeamSnap Tournaments.
To download the TeamSnap Tournaments app, go to the Google Play Store or Apple App Store to find app:
3. In app sign in using this your email address and follow our League: 
GEA Futsal League 2020/21 Session #1
4. Now you can see favorite your team, see division schedules, and can receive real-time scores, updates, and
notifications.
· Registration deadline is October 16th at midnight.
· Due to numbers, some divisions may be combined or rearranged for scheduling purposes. Coaches will be given an opportunity to approve the division they have been placed in.
· Instructions are provided in registration for coaches to enter up to three scheduling conflicts for session #1.
· Session game are played on Friday, Saturday and Sunday
· Adult league is played on Thursday nights
· Session begins October 30th (Adult league start is October 29th) and will conclude on December 19th.
· No games for Thanksgiving, Christmas or New Year's weekends.
· Any questions, please email travisstangl@gretnaeliteacademy.com or chris.watson@gretnaeliteacademy.com
* Club discounts offered for any club that brings ten or more teams. A promo-code will be provided *