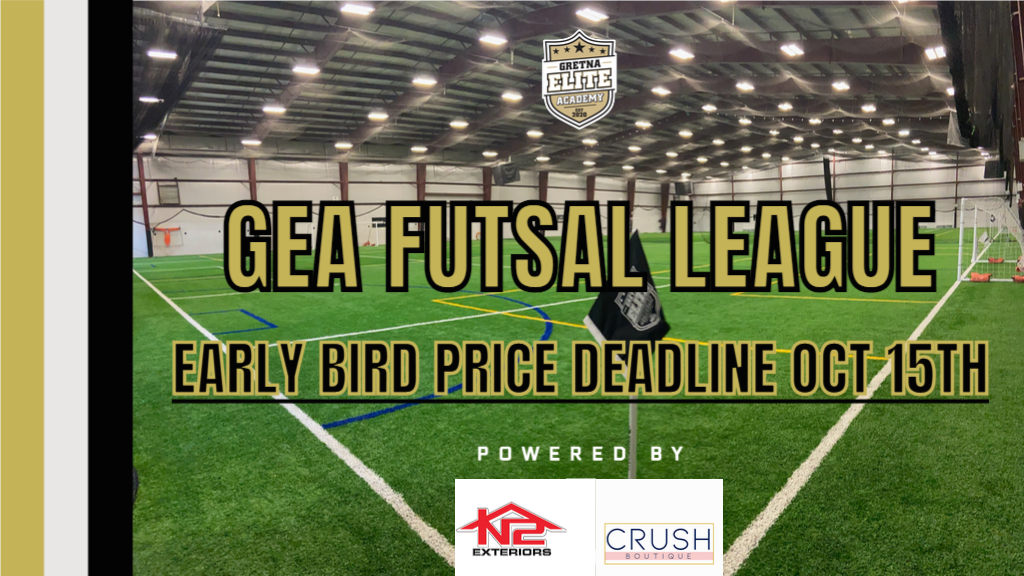 GRETNA FUTSAL LEAGUE 2021/2022
Come play on our new Turf by AstroTurfUsa! GEA Futsal is a fast paced, high energy, fully turfed, fun environment.

This is a 5v5 league open to both girls' and boys' teams from 7U to 14U plus an Adult league, max roster is 10 players, minimum of 5 players.

6 games guaranteed ending the session with a Champion's weekend (all teams play one game).

Games are played on Friday evenings, Saturdays and Sunday afternoon.

All games are played at the Gretna Soccer Complex located at 10550 S. 222nd Street, Gretna, NE 68028.

Session #1 is played from November 5th thru December 19th.

Session #2 will include high school age (information coming later).

The early-bird cost is $425 per team, with a 10-person roster that's only $42.50 per player. Pricing includes online payment fees.

Early bird pricing ends on October 15th at midnight, $500/team thereafter.

Registration ends on October 16th at midnight.

Teams can enter up to two conflicts on the registration page during registration.

Each player will be required to fill out two online Waivers prior to participating in the League Session. Send these links to all parents to fill out for their player(s).
Only online payments with full team amounts will be accepted. We will not accept individual player payments. It is the responsibility of each coach and team manager to acquire payment from each player and then pay online in the full amount. (Cost per team $425 early bird pricing, $500 after the early bird deadline). Pricing includes all online payment fees.
Session 1 (Nov 5th – Dec 19th)
Session 2 (Jan 14th – Feb 27th)
Questions, please contact us at:  futsal@gretnaeliteacademy.com.
We look forward to seeing you all soon!  Thanks.